Self Rescue Level 1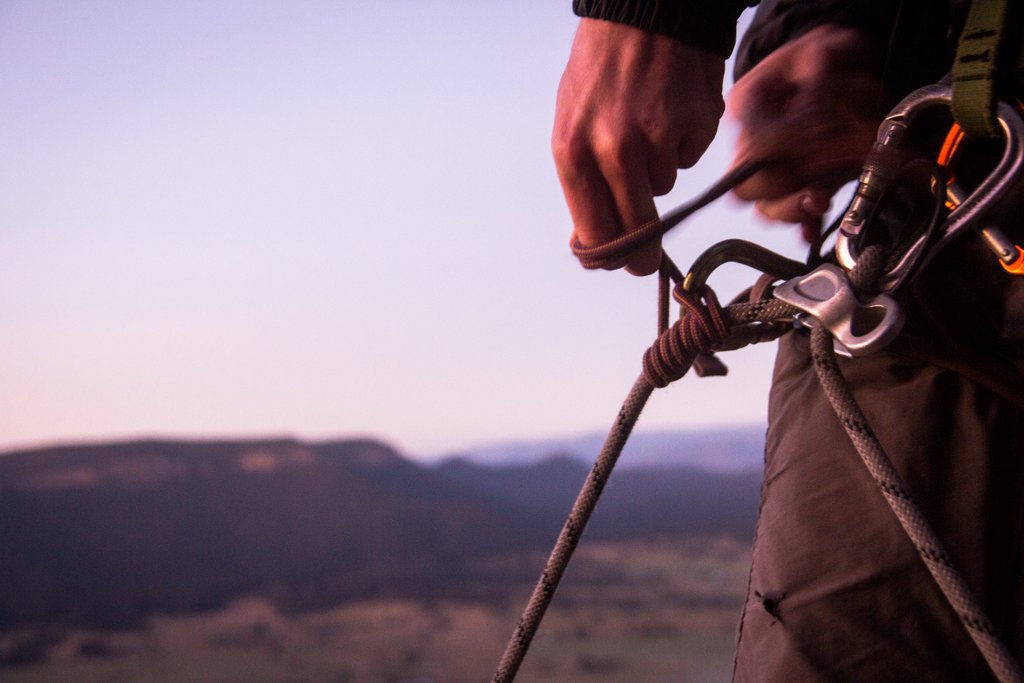 Varighet: 2 Dager (ca.)
Lokasjon: Blackheath, New South Wales
Produktkode: SR1 SelfRescue1
Over two days you will have your safety button reset as we explain the simple underlying rules of self rescue and lay the foundations for more complex procedures. This short course is also excellent for photographers who want to capture great shots of climbers in vertical locations.
This course equips you with the skills and knowledge you need to:
Safely ascend and descend a rope using a back-up safety system
Efficiently transition from descending to ascending and vice versa
Recognise, prevent, respond to and solve the most common abseiling and climbing problems that require self rescue or ascending
Make wise decisions in an outdoor cliff environment
Address some of the most common myths related to movement on rope.
Key facts:
2 days
Personal attention (max 6 participants per instructor)
Minimum 2 participants
All required equipment provided including ropes, helmet, harness, climbing shoes, belay devides and carabiners. Along with prussiks, slings and a variety of other software and hardware.
Meet at 8am in Blackheath, Blue Mountains
We recommend booking the Self Rescue Level 1 and Level 2 course together. Ask us about packages.


Day 1
With the spectacular Blue Mountains cliffs as our venue and backdrop we cover the fundamentals of descending and ascending a rope efficiently and safely.
Revision of pre course notes and pre course quiz
Basic belaying/safety assessment
Key safety principles in descending and ascending
Safeguarding yourself on descent (self belay and bottom belay)
Different abseiling and ascending devices from prussiks to special devices
Locking off a variety of devices
Basic technique of ascending efficiently
Improvising descenders, ascenders and harnesses in emergencies
Practice


Day 2
Applying the skills learned on day 1 to more complex situations, you will also be shown how to apply your skills to prevent the most common clinbing incidents and more.
Transitioning from ascent to descent and vice versa
Bypassing a knot
Negotiating obstacles and edges
Applications of the base principles to common problems/non-routine situations
Introduction to retrievable abseil systems
The differences in applications of these skills to single or double rope descent and/or ascent
Discussion of other applications of these tools and skills
Practice
Before the course starts we'll send you some pre-course notes. Although reading these isn't compulsory, we recommend having a look through to make sure you're up to speed and get the most out of your days with us.
Topics covered include:
Appropriate equipment selection
Understanding equipment limitations
Essential knots and hitches
A review of the key safety checks
Communication and climbing calls
Throughout the course your instructor will give you personalised instruction on developing your skills and technique, covering areas such as:
Moving efficiently on rope
Techniques for negotiating difficult terrain
Tips on managing equipment like backpacks and spare ropes
Getting the most out of a small budget for gear
Recommended next steps and skills to practices after the course
All of our courses cover:
Basic principles of cliff edge safety
Development of climbing technique
Climbing ethics
Caring for the cliff environment
Pre-requisites:
1. Previous climbing and/or abseiling experience indoors or outdoors
2. Whilst this course has no other prerequisites, we talk to all of the participants prior to the course to ensure that they are at an appropriate skill level before joining the course. We'll ask you about your experience, interests, abilities and aspirations to make sure that the course is right for you.